Travel Reports
"The World is a book, and those who do not travel read only a page." – Aurelius Augustinus (354 – 430)
On this travel page, I am listing all the trips I have taken so far, including a small description and an upcoming section for the next few planned countries from my second Round-the-World Trip (2021 – end of 2023)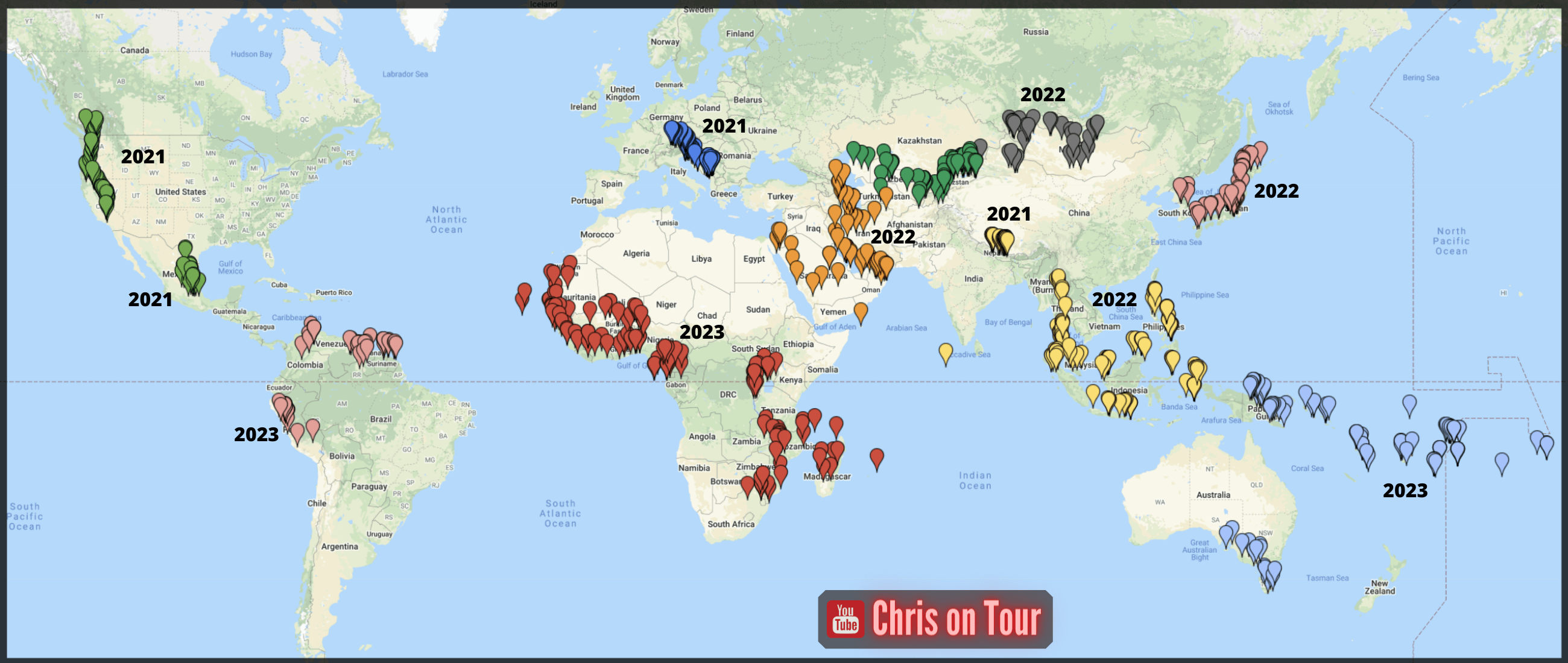 Visited Countries: 107 out of 197 (54,31%)
I have used the 193 United Nations countries + the Holy See, state of Palestine, Taiwan & Kosovo to get to the 197 total countries. Check out my NomadMania profile here, tracking 1301 regions of the world.
Upcoming Trips:
01/2026

 No. 107 – Africa
Once my coworking & bar project Montenegro Tower is up & running, i plan to do some traveling as well again. Probably not full time like in the past, but there are still to many regions of the world that I want to explore and revisit.
10/2025

 No. 107 – Middle East
Once my coworking & bar project Montenegro Tower is up & running, i plan to do some traveling as well again. Probably not full time like in the past, but there are still to many regions of the world that I want to explore and revisit.
06/2025

 No. 107 – Central Asia
Once my coworking & bar project Montenegro Tower is up & running, i plan to do some traveling as well again. Probably not full time like in the past, but there are still to many regions of the world that I want to explore and revisit.
01/2025

 No. 107 – South East Asia
Once my coworking & bar project Montenegro Tower is up & running, i plan to do some traveling as well again. Probably not full time like in the past, but there are still to many regions of the world that I want to explore and revisit.
Completed Trips:
11/2021

 No. 107 – Nepal
With Nepal I will finally make it to a new country after revisiting previously visited countries. Similar to the PCT, hiking will be the main focus here with a lot of amazing high altitude treks coming up such as Pikey Peak, Jiri to Lukla & Three Passes Trek in the Everest region.
10/2021

 No. 106 – Montenegro
I am coming back to Montenegro to explore the amazing mountain areas and re-visit the coastline, scouting for my future property to open a bar & coworking space by 2024.
05/2021

 No. 106 – USA
Due to Corona regulations, I was not able to get a VISA for the US, but the 90 day eSTA allowed me to hike 2 months on the Pacific Crest Trail and explore Alaska for 2 weeks before flying back home to Germany.
04/2021

 No. 106 – Mexico
After a full year of waiting, I am finally starting my next trip again in around 80 countries! Mexico will be the start of it, enabling me to enter the USA afterwards as they are currently banning any entries from people being present in the EU countries 14 days prior.
12/2019

 No. 106 – Moldova
Tasting the famous and very tasty wine of Moldova in Chisinau, Mimi Castle and Epoca de Piatra.
11/2019

 No. 105 – Belarus
Experiencing the last dictatorship in Europe in Belarus' capitcal Minsk and exploring the Mir & Nesvizh Castles. Followed by a few days Kiev, Ukraine.
07/2019

 No. 104 – China
Flying to Xi'An for the World Cyber Games 2019 as a team Manager, checking out the famous Terracotta Army and enjoying the Huashan Mountains. Also managed to find some time in Beijing on a stopover on the way home to see some of the remote corners of the Great Wall of China in Mutianyu!
06/2019

 No. 104 – Switzerland
During my work trip to Munich, Zurich and Austria, I found some time to head into the Alp mountains in Luzern and climbed Mount Pilatus, offering some amazing views!
06/2019

 No. 104 – Faroe Islands
One of the greatest landscapes at my doorstep which I haven't yet discovered. I finally made it before it becomes too touristic and had a great time soaking in the rural country life and incredible landscapes on those small islands! Traelanipa, Leitisvatn Lake, Saksun, Klaksvik, Kalsoy, Vidoy, Gjogv, Mulafossur, Torshavn, Suðuroy, Drangarnir Sea Stack & Puffins on Mykines Island.
05/2019

 No. 104 – Sweden
Camping warm-up for the upcoming Faroe Island trip, going to Gothenburg, Styrsö, the remote Tresticklan National Park, Kullaberg, Lund & Malmö.
04/2019

 No. 104 – Tunisia
Short trip before Easter to the Sahara Desert. Also made it to Sidi Boussaid & Tunis, El Jem, Douz, Matmata & Djerba!
01/2019

 No. 103 – Norway
I finally made it to one of the most amazing landscape spots in Europe: The Lofoten! And i went there during one of the toughest snow fall they had in over 70 years, making it a great adventure. After a night camping in the snow, we saw the northern lights four nights in a row on our way to Tromsø!
12/2018

 No. 103 – Spain
Just before going home for Christmas, I wanted to soak up some sun and see one of the best climbing areas in Europe: El Chorro. They also have a great walk there and you should check out Caminito Del Rey if you are in the area.
10/2018

 No. 103 – Israel
Getting into Israel was pretty tough with one of the strictest entry policies on our planet. I made it after nearly three hours at the border though and had a great time exploring all the historic sites.
10/2018

 No. 102 – Jordan
Petra is probably on the bucket list of nearly every traveler, and so it was also finally time for me to see this amazing place. It did not disappoint! Wadi Rum was even better though!
10/2018

 No. 101 – Cyprus
On my first holiday in the new job, I went out exploring both the Greek and Turkish parts of one of the geographically most southern countries of Europe!
03/2018 

No. 100 – USA
I started a new job with a company based in New York City and had two weeks there to finally explore this great town properly!
02/2018 

No. 100 – USA
Los Angeles & Irvine for the Blizzard Warcraft III Invitational.
02/2018 

No. 100 – Iceland
Reykjavik stopover for Northern Lights and Ice Caves again. Sadly really bad weather this time.
12/2017 

No. 100 – Spain / Island of Lanzarote
Teguise, Mirador del Rio, Playa de Papagayo, Timanfaya National Park, Los Hervideros, El Golfo, Lago Verde, Famara Beach & Arrecife.
11/2017 

No. 100 – Philippines
Cebu, Bohol, Moalboal, Puerto Princesa, Port Barton, El Nido, Coron, Angeles, Taal Volcano & Manila.
10/2017 

No. 99 – Taiwan
Hualien, Taroko Gorge, Sun Moon Lake, Shei-Pa National Park, Dabajian Mountain, Hsinchu & Taipei.
10/2017 

No. 98 – China
Chengdu & Hong Kong.
09/2017 

No. 98 – New Zealand
Christchurch, Mount Sunday, Arthur's Pass, Hokitika, Franz Josef Glacier, Fox Glacier, Wanaka, Queenstown, Milford Sound, Greenstone Track, Te Anau, Kepler Track, Dunedin, Twizel, Mount Cook Village, Lake Ohau, Lake Tekapo, Kaikoura, Wellington, Tongariro Alpine Crossing, Turangi, Taupo, Rotorua, Coromandel Peninsula, Piha & Auckland.
06/2017 

 No. 97 – Australia
Darwin, Litchfield National Park, Katherine, Gregory National Park, Lake Argyle, Kununurra, El Questro Wilderness Park, Purnululu National Park, Wolfe Creek Crater, Boab Quarry Campsite, Tunnel Creek, Windjana Gorge, Broome, Eighty Mile Beach, Port Hedland, Karijini National Park, Exmouth, Cape Range NP, Coral Bay, Shark Bay, Monkey Mia, Kalbarri National Park, Pink Lake Geraldton, Pinnacles Desert, Perth, Margaret River, Pemberton, Denmark, Albany, Wave Rock, Gold Coast, Byron Bay, Mount Warning, Springbrook NP, Brisbane, Glass House Mountains, Coolum Beach, Noosa National Park, Fraser Island, Hervey Bay Whales, North Stradbroke Island, Girraween National Park, Warrumbungle National Park, Sydney, Blue Mountains, Goulburn, Ulladulla, Jervis Bay & Royal National Park.
06/2017 

No. 96 – East Timor
Dili, Mount Ramelau & Atauro Island.
05/2017 

 No. 95 – Indonesia
Jakarta, Surabaya, Bromo-Tengger-Semeru National Park, Ijen Crater, Bali, Lombok, Mount Rinjani, Gili Air, Komodo National Park, Bajawa, Moni, Puncak Kelimutu, Ende & Kupang.
05/2017 

 No. 94 – Brunei
Bandar Seri Begawan.
04/2017 

No. 93 – Vietnam
Ho Chi Minh, Cu Chi Tunnels, Cát Tiên National Park & Mũi Né.
03/2017 

 No. 92 – Laos
Vientiane, Vang Vieng, Pha Tang, Luang Prabang, Kuang Si, Phoun Khoun, Plain of Jars, Ban Nahin, Kong Lor, Pakse & Si Phan Don aka 4000 Islands.
03/2017 

No. 91 – Myanmar
Yangon, Hpa-An, Kyaikhteeyoe Golden Rock, Naypyitaw, Kalaw, Inle Lake Hike, Nyaung Shwe, Bagan, Monywa & Mandalay.
02/2017 

No. 90 – Cambodia
Kep, Sihanouville, Koh Rong, Koh Rong Sanloem, Siem Reap, Ankor Wat & Krong Kampong Cham.
02/2017 

 No. 89 – Thailand
Bangkok, Phuket, Ko Phi Phi, Krabi, Phang Nga, Khao Sok National Park & Chumphon Archipelago.
02/2017 

 No. 88 – Singapore
Singapore
01/2017 

No. 87 – Malaysia
Kuala Lumpur, Cameron Highlands, Sarasan Salt Flats, Malacca, Taman Negara NP & Perhentian Islands.
01/2017 

 No. 86 – Armenia
Yerevan, Gyumri, Sevanavank & Alaverdi.
01/2017 

 No. 85 – Georgia
Kutaisi, Katshki, Akhaltsikhe, Vardzia, Stepantsminda & Tbilisi.
01/2017 

 No. 84 – Turkey
Istanbul, Pamukkale, Hierapolis, Sümela, Uzungöl Lake, Ani, Ankara, Cappadocia.
11/2016 

 No. 83 – Dominican Republic
11/2016 

 No. 82 – St Kitts & Nevis
11/2016 

 No. 81 – Antigua and Barbuda
11/2016 

 No. 80 – Dominica
11/2016 

 No. 79 – Saint Lucia
11/2016 

 No. 78 – Saint Vincent and the Grenadines
11/2016 

 No. 77 – Grenada
11/2016 

 No. 76 – Trinidad and Tobago
My first sailing experience in the Caribbean! Visiting Trinidad and Tobago, Grenada, Saint Vincent and the Grenadines, Saint Lucia, Dominica, Antigua and Barbuda, Saint Martin & Dominican Republic along the way.
10/2016 

 No. 75 – Colombia
Bogotá, Ibague, Cali, Salento, Pasto, Mocoa, Neiva & Leticia.
10/2016 

 No. 75 – West USA
Mount Rainier National Park, Seattle, Las Vegas, Grand Canyon, Page, Zion National Park, Bryce Canyon National Park, Escalante, Boulder, Moab, Palisade, Grand Junction, Montrose, Ouray, Great Sand Dunes National Park, Colorado Springs, Golden & Denver.
09/2016 

 No. 74 – West Canada
Edmonton, Banff National Park, Jasper National Park, Yoho National Park, Glacier National Park, Golden, Vancouver & Garibaldi Provincial Park.
08/2016 

 No. 74 – Norway
Oslo, Hemsedal, Hardangervidda, Galdhøpiggen, Trolltunga, Geirangerfjord, Bergen, Stavanger, Preikestolen & Kjeragbolten.
07/2016 

 No. 73 – Liechtenstein
07/2016 

 No. 72 – Andorra
07/2016 

 No. 71 – Monaco
07/2016 

 No. 70 – France
07/2016 

 No. 69 – San Marino
07/2016 

 No. 68 – Italy
07/2016 

 No. 68 – Malta
A 6 week roadtrip through Europe while waiting for my third passport, visiting Malta, Italy, San Marino, France, Monaco, Andorra, Spain, Switzerland, Austria & Liechtenstein.
06/2016 

 No. 67 – South Africa
Johannesburg, Drakensberg, Royal Natal National Park, Tugela Falls, Clarens, Howick Falls & Durban.
06/2016 

 No. 67 – Lesotho 
Maseru, Semonkong, Katse Dam & Sani Pass

06/2016 

 No. 66 – Zimbabwe
Victoria Falls, Hwange National Park, Mana Pools National Park & Harare

06/2016 

 No. 65 – Botswana
Tsodilo Hills, Okavango Delta, Moremi Game Reserve, Chobe National Park & Makgadikgadi Pans National Park.

05/2016 

 No. 64 – Namibia
Fish River Canyon, Lüderitz, Kolmanskop, Sesriem, Sossusvlei, Walvis Bay, Skeleton Coast, Palmwag, Epupa, Ruacana, Etosha National Park, Waterberg Plateau National Park, Otjiwarango & Rundu.

04/2016 

 No. 63 – South Africa
Cape Town, Stellenbosch, Cederberg Wilderness, Tankwa Karoo & Garden Route.
04/2016 

 No. 62 – Luxembourg
Luxemebourg City & Vianden.
03/2016 

 No. 61 – Ukraine
03/2016 

 No. 60 – Romania
03/2016 

 No. 59 – Serbia
03/2016 

 No. 58 – Bosnia and Herzegovina
03/2016 

 No. 57 – Montenegro
03/2016 

 No. 56 – Albania
03/2016 

 No. 55 – Kosovo
03/2016 

 No. 54 – Macedonia
Roadtrip through the Balkans.
02/2016 

 No. 53 – Greece
Athens, Epidaurus Theatre, Tolo, Argos, Nemea, Corinth, Patras, Delphi & Meteora.
01/2016 

 No. 52 – Sri Lanka
Colombo, Sigiriya Lion & Pidurangala Rock, Haputale, Lipton's Seat, Kandy, Adam's Peak, Ella, Yala National Park, Tangalle & Mirissa.
01/2016 

 No. 51 – India
Mumbai, Pune, Bijapur, Badami, Hampi, Bengaluru, Bandipur, Munnar, Kochi, Alappuzha, Varkala & Madurai.
05/2015 

 No. 50 – Brazil
Parque Aparados da Serra, Canela, Gramado, Caracol Falls, Porto Alegre, Foz do Iguaçu, Campo Grande, Bonito, Cuiabá, Brasilia, Chapada dos Veadeiros, Cavalcante, Alto Paraíso de Goiás, Pirenópolis, Rio de Janeiro, Petrópolis, Teresópolis, Niterói, Trindade, Paraty, Vitória, Itaúnas, Pedra da Fortaleza, Pedra Azul, Belo Horizonte, Santuário do Caraça, Ouro Preto, Mariana, Santa Rita do Passa Quatro, São Paulo & Recife.

05/2015 

 No. 49 – Paraguay
Ciudad del Este, Asunción & Circuito de Oro.

05/2015 

 No. 48 – Uruguay
Colonia del Sacramento, Montevideo, Cabo Polonio, Punta del Diablo & Chuy.

04/2015 

 No. 47 – Argentina
Villa la Angostura, San Carlos de Bariloche & Buenos Aires.
04/2015 

 No. 47 – Chile
Punta Arenas, Puerto Natales, Westfjords, Chiloé, Frutillar, Llanquihue & Puerto Varas.
03/2015

 No Country – Antarctica
South Shetland Islands & Antarctic Peninsula.
03/2015 

 No. 47 – Argentina
El Calafate, El Chaltén & Ushuaia.
02/2015 

No. 46 – Colombia
Capurganá, Cartagena, Santa Marta, Minca, Tayrona National Park, Palomino, Ciduad Perdida aka The Lost City, Bogotá & Villa de Leyva.
02/2015 

No. 46 – Panama
Boquete, Cangilones de Gualaca, Panama City, Pedasí & San Blas Islands.
01/2015 

No. 45 – Costa Rica
Tamarindo, Tilarán, Lago de Arenal, Monteverde Canopy Tour, Chirripó National Park & Corcovado National Park.
01/2015 

No. 44 – Nicaragua
Visiting the Stone Man Alberto Gutierrez, this unique character deep in the Tisey National Reserve near Estelí deserved to get a quick travel report while I usually just have time for short live updates during my big trip.
01/2015 

No. 44 – Nicaragua
Somoto, Estelí, León, Volcan Telica, Cerro Negro, Laguna de Apoyo, Granada & Isla de Ometepe.
12/2014 

No. 43 – Honduras
Macaw Mountain, Copan Ruinas, Copan Ruinas, San Pedro Sula, Utila, Lake Yojoa, PANACAM, Tegucigalpa & Santa Lucia.
12/2014 

No. 42 – El Salvador
Santa Ana, Chalchuapa, Volcan Izalco, Juayua & El Imposible National Park.
11/2014 

No. 41 – Guatemala
Tikal, Flores, Semuc Champey, Guatemala City, Lake Atitlan, Quetzaltenango, Volcán Santa Maria, Antigua & Volcán Acatenango.
11/2014 

No. 40 – Belize
Caye Caulker, San Ignacio & the Actun Tunichil Muknal Caves.
11/2014 

No. 39 – Mexico
Cancun, Tulum, Coba, Gran Cenote, Ek Balam Maya Ruinn, X'Canche Cenote, Merida, Dzibilchaltun, Uxmul, Campeche, Calakmul, Becan & Bacalar.
10/2014 

No. 38 – Canada
East Coast Trail, Gros Morne, Corner Brook in Newfoundland, Cape Breton, Halifax, Lunenburg, Peggys Cove in Nova Scotia, Bay of Fundy, Fredericton, Grand Falls in New Brunswick, Quebec City, Montreal & Toronto.
At this stage, I started my Round-the-world trip. Due to a lack of time and being on the road constantly, I decided to write shorter live updates instead of full travel reports.
09/2014 

 No. 37 – Ireland
It has been my very last day in the UK and I used it to cover the west of Ireland to explore the Cliffs of Moher.
09/2014 

No. 37 – United Kingdom
My last UK hiking trip to Wales turned out to be amazing, perfect weather and great company made our hike up Snowdon a total success!
08/2014 

No. 37 – United Kingdom
First time outdoor rock climbing on the 30m high cliffs of Isle of Portland in a beautiful setting.
06/2014

No. 37 – Morocco
A short trip to Northern Africa, just because I haven't been there yet and it's pretty close.
05/2014 

 No. 36 – Denmark / Greenland Part III: Arctic Circle Trail
05/2014 

 No. 36 – Denmark / Greenland Part II: Disco Bay
05/2014 

 No. 36 – Denmark / Greenland Part I: Russell' Glacier
Checking out the amazing Disco Bay and hiking the Arctic Circle Trail in West Greenland, one of the best trips I ever had!
04/2014 

 No. 35 – United Kingdom
Hitting the Lake District in England for some good Bouldering at the Sampson's Stones.
03/2014 

 No. 35 – Iceland
Roadtrip around the country to see the Northern Lights, crawl through Ice caves, dive between continents and just enjoy the beautiful landscape over there. Breathtaking!
08/2013

No. 34 – Chile
We finally had time to relax a bit in the hammocks of San Pedro de Atacama after nearly two months of intense traveling before finishing the trip in Santiago.
08/2013 

 No. 33 – Bolivia
The amazon rain forest in the Madidi National Park and bizarre Salar de Uyuni provided some completely new environments and did not disappoint at all. I also achieved a new altitude record by reaching the summit of 6088m high Huyana Potosi!
07/2013 

 No. 32 – Peru
Machu Picchu does not need any introduction, however the lesser known Colca Canyon and our 4-day hike through the second deepest canyon in the world blew my mind even more.
07/2013 

 No. 31 – Ecuador
The small country has a lot to offer and our journey to Cotopaxi (5897m) plus an unforgettable week on the Galapagos Islands set the bar really high for the rest of South America!
06/2013 

 No. 30 – Colombia
Kicking off the big trip in Bogota and wonderful Medellin.
05/2013

No. 29 – United Kingdom
Hiking the Pennine Way at England's Peak District.

04/2013 

 No. 29 – Ireland
I was in Dublin to do some trainings for our customers and decided to use the weekend to explore the close-by Wicklow Way.
03/2013

No. 29 – United Kingdom
Wild camping through a big part of the Scottish Highlands with a group of seven, mostly unknown, people turned out to be one of my best hiking trips ever!
09/2012

No. 29 – Ireland
Trekking in the Dingle Peninsula and the Killarney National Park, this time we stayed in a bunch of Bed & Breakfasts!
08/2012

No. 28 – United Kingdom
Weekend Trip to the Beatles' Hometown Liverpool, which also offers some nice buildings and a great dock areal.
07/2012

No. 28 – United Kingdom
The Olympic summer games in London started just 3 weeks after I arrived in London, so I took the chance to watch the Opening Ceremony very close to the stadium and enjoyed a free concert in Hyde Park.
07/2012

 No. 28 – UAE, Dubai
07/2012

No. 27 – Tanzania, Zanzibar
06/2012

No. 27 – Tanzania, Safari
06/2012

No. 27 – Tanzania, Kilimanjaro, Part II
06/2012

No. 27 – Tanzania, Kilimanjaro, Part I
06/2012

No. 26 – Kenya
Hiking up the tallest free standing mountain in the world, Kilimanjaro (5895m), getting close to wild animals in the Serengeti, chilling at the beautiful beaches of Zanzibar and finally hitting the 47° C hot Dubai was certainly one of my biggest trips so far.
05/2012

No. 25 – Germany
Unplanned Trekking Trip to German Pfalz area with a guy I just met hours before through Facebook, spontaneity rules! 🙂
04/2012

No. 25 – Belgium
Checking out the Groezrock Festival and stopping by in Brussels for some tasty beer and waffles!
09/2011

No. 24 – Russia
09/2011 

 No. 23 – Finland
09/2011 

 No. 22 – Estonia
09/2011 

 No. 21 – Latvia
09/2011 

 No. 20 – Lithuania
09/2011 

 No. 19 – Poland
08/2011 

 No. 18 – Hungary
08/2011 

 No. 17 – Slovakia
08/2011 

 No. 16 – Austria
East Europe tour starting in Vienna through Bratislava, Budapest, Krakow, Warsaw, Vilnius, Riga, Tallinn and Helsinki all the way to St.Petersburg and Moscow.
08/2011

 No. 16 – Switzerland
Hiking in the Valais Alps to Europe's highest summit which can be reached without any climbing gear: The Barrhorn (3610m).
05/2011

No. 15 – Portugal
Roadtrip through Portugal, starting in Faro and driving along the Algarve and West coast to Lisbon and Porto with a tour to the Peneda-Gerês National Park in the north.
05/2011

No. 14 – Germany
Skydiving with 60 friends in Miltenberg, Germany.We hired 4 Tandem Masters and a complete air strip for Camping 🙂
12/2010

 No. 14 – Egypt
A work colleague planned to pick me up from the airport in Cairo and organized the whole trip but ultimately, I didn't meet him at all so it turned out to be pretty exciting vacation.
09/2010

 No. 13 – Czech Republic
Prague is a lovely city and the pub crawls there are just intense! Never have I been so drunk before in my life for such little money.
08/2010

 No. 12 – Sweden
Discovery tour in the beautiful Swedish nature with a rented car and my tent. We came across Copenhagen, Malmö, Gothenburg and Stockholm.
07/2010

No. 11 – Austria
35 friends of mine joined me to do Wild Water Rafting in Austria at the "Imster Schlucht" (level 3) and "Ötztaler Ache" (level 5) in the Innsbruck area.
06/2010

No. 10 – Germany
Trip to North Tyrol near Bavaria to see the Neuschwanstein Castle and hike up the Säuling (2047m).
06/2010

No. 10 – Germany
Beautiful trekking tour called "Malerweg" in the Elbe Sandstone Mountains near Dresden, Germany.
03/2010

No. 10 – Vatican City / Holy See
Visiting St. Peter's Square in the middle of Rome also meant that I set foot to the smallest state in the world.
03/2010

No. 9 – Italy
City sightseeing in Rome and Pompeii, strongly supported by Couchsurfing Hosts Ylli and Elena.
10/2009

No. 8 – Spain
Kicking off Couchsurfing in Barcelona and Mallorca!
10/2009

No. 8 – Spain
First independent trip to Gran Canaria with two work colleagues.
10/2009

No. 7 – Netherlands
Exploring Amsterdam, trying not to get hit by a bike.
05/2009

No. 6 – Slovenia
Swinging by in Koper after the Spring Break.
05/2009

No. 5 – Croatia
Attending Spring Break Europe in Umag.
07/2008 

No. 4 – Bulgaria
I won a trip to Golden Sands in one of the Computer Tournaments and my parent's didn't want to go – so I had to! First proper hotel experience as a grown up, also my last one…
06/2004 

No. 3 – China
Playing WarCraft 3 at the ACON4 Tournament.
03/2003 

No. 2 – South Korea
Playing WarCraft 3 at the World Cyber Games.
06/1984 

No. 1 – Germany
My first country to conquer! 😉
Notable Mountains and Volcanoes climbed so far:
6088m Huayna Potosi (Bolivia)
5895m Kilimanjaro (Tanzania)
5559m Chhukung Ri peak (Nepal)
5535m Kongma La Pass (Nepal)
5420m Cho La pass (Nepal)
5364m Everest Base Camp (Nepal)
5340m Renjo La Pass (Nepal)
5330m Gokyo Ri peak (Nepal)
5126m Illiniza Norte (Ecuador)
4800m Cotopaxi Basecamp (Ecuador)
4791m Corazón (Ecuador)
4160m Colca Canyon (Peru)
3976m Acatenango (Guatemala)
3914m Quilotoa Lake (Ecuador)
3772m Santa María (Guatemala)
3726m Mount Rinjani (Indonesia)
3610m Barrhorn (Switzerland)
– – – – – – – – – – – – – – – – – – – – – – – – – – – – – – – – – – – – – – – – – – – – – – – – – – – – – – – – – – – – – – – – – – – – – – – –


Let's see if I will ever reach 197 countries…
Everything will be documented over time on the 

Photography 

or

Video Pages with the highlights appearing in my Favorite Moments section.
You can also sign up to my newsletter for regular summaries of my posts!