[11/03/2018]

 New York is probably the most iconic city on our planet. Everyone knows about it's amazing culture and trademark buildings. In this post from my very recent trip in March this year, I would like to show you how to explore NYC on a low budget without missing out on anything with 10 specific low budget travel tips.
 – – – – – – – – – – – – – – – – – – – – – – – – – – – – – – – – – – – – – – – – – – – – – – – – – – –
New York City on a Budget (Travel guide incl. 10 location tips)
In this article, I would like to show you how you can enjoy NYC without spending much money. Most of the famous tourist attractions require you to pay, especially when it comes to finding great views from up above. The famous view from the "Top of the Rock" viewpoint at the Rockefeller Center for instance will set you back a whooping 40$! While the view is certainly worth it, you can get other great views for no fee at all.
It's certainly a great idea to have a good guide with you (Marco Polo's Guide to New York for example). But based on my my very own experiences, I have also collected some of my other favorite spots with amazing views and no costs in these following 10 tips.
#1 World Trade Center & Oculus Train Station
Not necessarily a budget tip, but a great place to wander around for free is the World Trade Center. The tragic events of 9/11 are still feel very present in our memory, even though it has already been 17 years! The New World Trade Center is now the proud highlight of the lower Manhattans skyline. I was especially impressed by the fountains that are part of the National September 11 Memorial. Built on the foundation of the former towers, the water cascades into a dark hole and the fountains are not only an architectural masterpiece (such as the nearby Oculus train station by the way), but also a sight that invites to reflect on what happened on this very spot.
#2 Holland Tunnel Viewpoint
Walking up north from the World Trade Center for just about one mile along the Hudson river, you will get to a great viewpoint towards Jersey City. I recommend coming here in the evening for a great sunset if you are based in central Manhattan and you don't have the time to venture out further to any of the more famous  points. If you pop in the GPS coordinates 40°43′34.21″N 74°00′48.09″W into your map navigation app of choice, you will end up right on top of the Holland Tunnel. This exact spot was my favorite to take sunset pictures of the Jersey Skyline and not only is it completely for free, you will also be able to avoid the tourists here and enjoy the lovely view with just a few local runners and residents and their dogs 🙂
#3 Jimmy's rooftop bar
Just around the corner is one of the absolute highlights of the entire city when it comes down to free views from up high! Pop over to Jimmy's rooftop bar, enjoy some of their drinks and make sure to go outside towards the pool area with a great view on lower Manhattan and Jersey! I was actually coming out multiple times to take pictures from this spot as it got dark to capture all those lit up buildings. New York is indeed the city that never sleeps! Heading back towards the river to Pier 26, you will also be able to see the World Trade Center in it's full glory.
---
Tip:

 As you leave the bar and have the pool in front of you on the balcony of Jimmy's roof top bar, walk about half way towards the right and then look back to even spot the Empire State Building from here!



---
#4 Washington Square Park
Head back inland for just a few minutes and you will reach Washington Square Park. This small spot is great for people watching  and you can get some cool pictures of the big bubbles that keep countless kids entertained. While the park itself is not that impressive, it is the people that make this place so special. From Musicians, actors, speakers to other kind of artist; you are guaranteed to be entertained on this tiny spot – without paying anything other than the tips you might leave!
#5 Brooklyn Bridge & Brooklyn Heights Promenade
The Brooklyn Bridge is another iconic spot in New York City and something no traveler should miss out on. Take your time walking over it and enjoy the views back on Manhattan's Skyline. Once you crossed over, make sure to check out Brooklyn Heights Promenade as well with some great views on the Manhattan Skyline. Go to 40°42′05.87″N 73°59′49.09″W for a picture as below with the old remains of a wooden pier serving as a great motive in front of the skyline.
#6 Prospect Park & Prison Ship Martyrs Monument
The streets of Brooklyn might be only second choice for many visitors that concentrate on the more impressive Manhattan. However, if you would like to see how rural New Yorkers live their lives, you should certainly head down deeper into Brooklyn and just randomly walk through the streets there. There are also two nice parks to check out with Prospect Park & Prison Ship Martyrs Monument. I recommend to take the subway towards prospect park and then walk back towards the Brooklyn Bridge again or vice versa.
#7 DUMBO
To finish off the excursion to Brooklyn, I want to point out an area called DUMBO. No, this is not where Disney's famous elephant came to life but instead the best spot to take amazing pictures of both the Brooklyn and Manhattan bridges! DUMBO stands for Down Under the Manhattan Bridge Overpass and you should definitely come over here for the sunset and night pictures. Wait for the Subway to cross Manhattan bridge to take your long exposure shots to get that extra element of light into the frame! You should also consider to walk the extra mile and walk up on Manhattan Bridge for some great photos of the Skyline!
#8 Liberty State Park

After taking so many pictures of the Jersey skyline in tip #2, I obviously wanted to check out that area as well! The Liberty State Park turned out to be one of my favorite spots in the entire city of New York! The Empty Sky Monument is impressive and very well designed, providing some good photo perspectives with the Skyline in the background and all the names of the 9/11 victims sketched in the stainless steel. Walking towards the waterfront, you will be rewarded with some of the most impressive views of Manhattan. You can see all the way from the Empire State Building to the World Trade Center and better have a nice panorama mode on your camera!
---
Tip:

 Walk down towards the southern end of Liberty State Park at 40°41′27.11″N 74°03′17.83″W to get as close to the Statue of Liberty as possible without paying for the 20$ getting you on the tiny island. 
---

#9 Street Views from Salon de Ning at The Peninsula

One of my absolute favorite pictures of this New York trip was taken from the Salon de Ning at The Peninsula. It is a bar that offers amazing views into the 5th avenue street below. Come towards the end of the day as all the lights of the cars will certainly make for some better pictures! And even if you do not drink anything there, the friendly staff will let you in just to take a photo as well. I have tried this myself and it worked perfectly! So do not be set off by the fancy bar if you do not have the budget to consume anything there, but still want a great shot of the busy streets of New York!
---
Tip:

 Another restaurant with a decent view on the southern tip of central park is the 35th floor of the Mandarin Oriental hotel. You wont be able to see the entire park from there, but it is still worth going up for a quicky!
---
#10 230 FIFTH Rooftop Garden Bar and Restaurant
Last but not least, I would like to present to you THE best view without an entry fee: 230 FIFTH Rooftop Garden Bar and Restaurant! Come up here for a drink and enjoy the amazing views all around and especially right at the famous Empire State Building. Similar to the expensive "Top of the Rock" viewpoint at the Rockefeller Center, you will feel very close to his old and very impressive 443m tall Skyscraper, which can be seen in countless movies and billboards. They also have some really cool and cosy igloos up there to gather with you friends! Seriously, this is an amazingly cool place that no one should miss out on!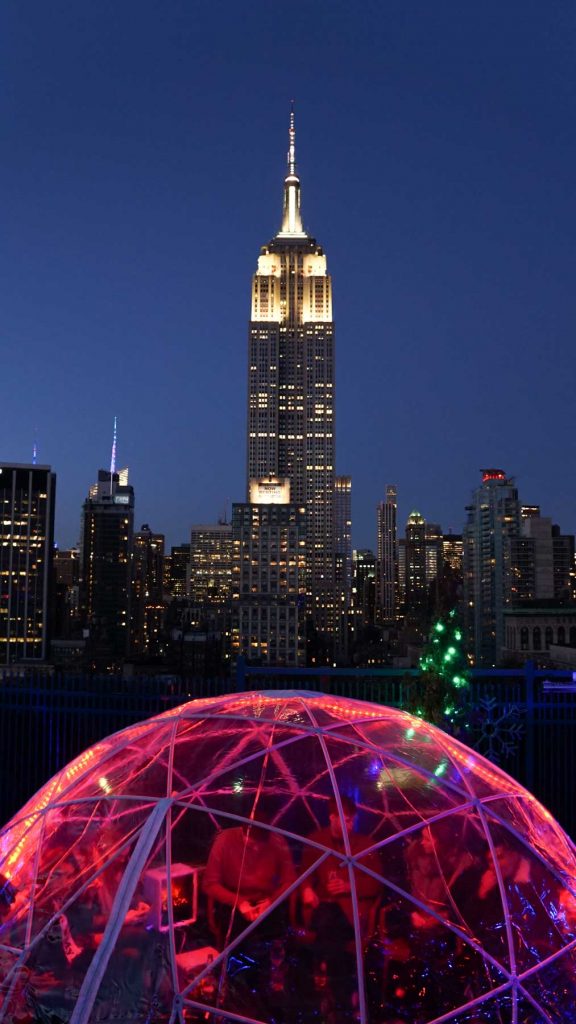 Final thoughts and some snowy pictures
As you can see, New York can be explored without spending a fortune. This is only a short list of places that I particularly enjoyed and is far from being complete. I have only been to New York twice so far but am hoping that those spots will help some of you to make the most out of your trip. To end this report up, check out these snowy pictures that I have taken on my last day after 2 weeks of sunshine. It was crazy how quickly the weather changed and it must have been one of the heaviest snow storms for end of March!
– – – – – – – – – – – – – – – – – – – – – – – – – – – – – – – – – – – – – – – – – – – – – – – – – – – – – – – – – – – – – – – – – – – – – – – –
Hopefully you enjoyed this post and I would love to hear your thoughts on the topic!
You can also sign up for my newsletter for a regular summaries of my posts:
If you want more, head over to my Travel Report page for full travel reports, or the Video and Photography pages if you are not in the mood for more boring text.