20/03/2015 We had an adventurous last night sleeping underneath a huge boulder during heavy snowfall and were now set to make our way towards Paso del Cuadrado in perfect sunny weather, once more correctly predicted by the forecast. Unclear if we could make it to the top of the 1850m high mountain pass, we were in good spirits and eager to explore the more distant hiking regions around El Chaltén.
After checking out the lagoon at Piedras Blanca for sunrise, we packed up our stuff and were blessed with sunshine on our way back to the rocky river valley of Río Blanco. Soon after, the path turned left towards a forest. We were curious of how the situation at the upcoming camp site would be, as they are charging 300 pesos (around 30€) for people just to pass through! Obviously, we didn't like that and planned to use another path to avoid them. Hugo from the hostel told me about it and said that it's usually no problem. As we got closer, we passed two signs listing the prices to stay or just pass the camp. For some reason though, we were not able to find the shortcut and ended up walking right through the camp site – no one noticed us and we could pass without paying! Haha.
We entered a huge open valley surrounded by big mountains on both sides and it just looked and felt amazing! For the first time I had this "Wow, I'm in Patagonia" feeling as we were alone and far away from all the day trip tourists. This was exactly what I was looking for. Crossing the big valley took a little while and I was constantly looking around to absorb the visual impressions around me. We actually passed the steep path to climb up to Paso del Cuadrado on our left side, because we wanted to check out the area at Lago Eléctrico first.
The hike to the lake was really enjoyable with lots of clean water along the way in the small rivers. The lake itself was also really nice, a huge rock sitting in the middle. There were some hiking paths to get to the other side of the lake too, but our goal was to go up high, turning left to reach a tiny lake which name I sadly can't remember now. We certainly had a great view there, looking up to Fitz Roy from a rather unusual perspective. Rene at this point decided to head back to El Chaltén suddenly, aiming to hitch hike the next day and keen to get some rest from our cold and snowy start of the hike. I was left alone and decided to climb up the mountain next to the tiny lake a bit, eventually being stopped by some ice blocks falling off a frozen waterfall on both sides, giving me only one direction to go: Back to the lake. It was a great view up there though and I could get a glimpse of some glaciers that you can't see from below.
Heading back towards the starting point of the steep climb towards Paso del Cuadrado, I actually passed Rene again, who obviously had to take it a bit slower on his way back. I crossed the valley towards the steep path and met a couple from austria that attempted to summit the pass yesterday. "There is to much snow up there", they said, making it impossible to reach the top right now. There would also be another group of 3 guys up there right now, waiting for better conditions to summit the pass. I wanted to see how far I could get and decided to continue, hoping that the sun would keep on shining. Climbing up the path was pretty hard physically, as it was really steep the whole way through. Once I reached the 1500m mark, the first snow started to appear on the ground, increasingly getting more as I climbed up higher. The couple from earlier told me that there was a big black rock that would be perfect to set up cam and. I still had enough time until sunset and kept on climbing up…
Reaching something that kind of looked like the rock they described, but wasn't black, I decided to keep on walking up a bit more to get a better overview and hopefully spot it. Snow now covered the ground and I was already at around 1600m when I realised that the rock I spotted earlier must have been the one. I could not spot any other rocks in my nearby surroundings and the slope got steeper and steeper. I was also getting quiet tired now from carrying the backpack with all my camping equipment and could not wait to find a spot to set up my tent! The thought of hiking back down again to the rock after half an hour of strenuousness uphill climb did not make me happy, so I kept on going up in a desperate search for a camp spot. I would eventually run into the other group, I thought, but the now boot-deep snow made it hard to find the path and it was slowly getting dark now as well, so I had no time to lose and kept on going.
I did not expect so much snow to be up here and quickly lost hope to actually summit the pass. I needed to focus on finding a good spot to set up camp now, because it would certainly get freezing cold up here at around 1700m now. Pushing myself up higher, I eventually reached a spot that some other people used as a camp before, judging by the circle of rocks that would perfectly fit a tent in between them. There was a big boulder on one side for some wind protection and generally a good spot, so I decided to use it as a camp. First though, I needed to stomp down all the snow in order to be set up the tent on top of it. It took me a little while to do so, but at least it also kept me warm at the same time. Once I set up the tent, it became dark pretty fast and I had to wrap everything I had in order to keep myself warm. It got really cold in the night and I was actually freezing for the first time ever in a tent; my sleeping bag is not as good as it used to be! I got used to the cold though and eventually fell asleep after going out for a last pee around 1AM, looking at one of the most amazing night sky full of stars I have ever seen in my life. Sadly, there was no way to capture it with the camera of my phone…
The next morning greeted me with sunshine again and I woke up just for the first rays of light shining on Fitz Roy's back side. It was still freezing cold and I had to do some exercises to warm myself up while enjoying the amazing views around me. I would sadly not be able to make it up to the pass, just about 200m higher from my current position. There was just too much snow and I did not want to risk it without having proper equipment. So instead, I was walking back without ever meeting the other group that was supposed to be up here. It was still totally worth all the effort and a trek I will never forget!
On my way back, I found the path to bypass the camp this time and could enjoyed all the landscapes in great sunny conditions. Passing Piedras Blanca again, I would soon find myself at the bridge close to the Fitz Roy viewpoint and was instantly thrown back into the mad amount of day tour tourists – something I really did not miss! This time though, passing the same path back towards El Chaltén for the third time now, I had insanely good weather and just had to take some more pictures of the famous Fitz Roy skyline – I wish I had my camera back then but luckily some of the phone pictures turned out to be nice too! It was just a perfect way to end this hike, which was packed with adventure and amazing moments that I find hard to put into text actually, it's something you just have to see with your own eyes… My time in El Chaltén was not over though and after getting back to my favorite hostel Hem Heru, I got ready for the next hikes.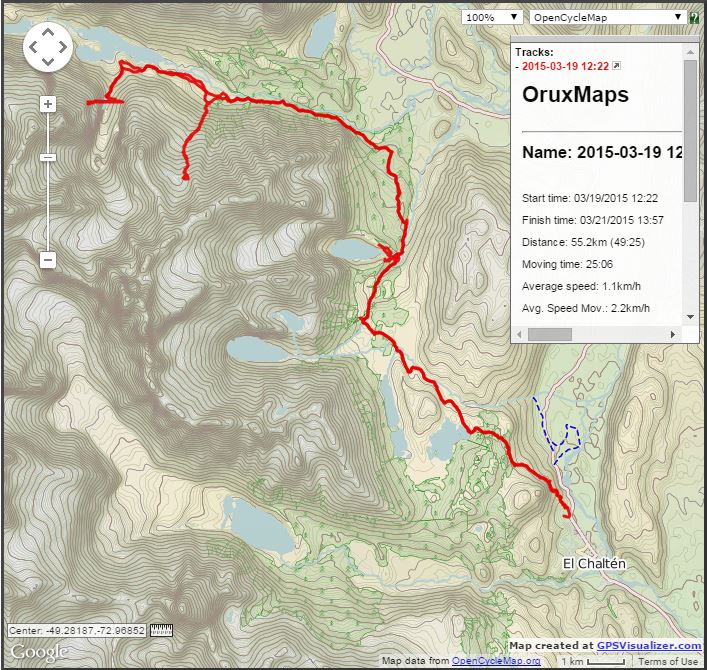 – – – – – – – – – – – – – – – – – – – – – – – – – – – – – – – – – – – – – – – – – – – – – – – – – – – – – – – – – – – – – – – – – – – – – – – –
Thanks for reading! I hope you enjoyed this post and would appreciate a comment below 🙂
If you want more, head over to my Travel Report page for full travel reports, or the Video and Photography pages if you are not in the mood for more boring text. And if you want to help me to upgrade my site, click on the link below for more information 🙂