14/03/2015 Hiking back from Laguna Torre offered me a little excursion that actually deserves it's own live update: Climbing Loma de Las Pizarras! The peak granted me with a superb view and I could actually see a bit of Cerro Torre this time too. Some rainbows paired with huge winds that nearly blew me off my feet made up for a great experience.
I was on a mission. Having my broken camera in mind, I wanted to return to El Chaltén as soon as possible, but on the other hand I was standing at the entry point of the 1600m high Loma de las Pizarras and I could not resist the temptation to hike up there. Leaving my backpack behind in the woods, I quickly ascended through the forest and could not find the actual path. Instead, I was making up my own one as there was only one direction anyway: Up! Soon I would get out of the forest and the first views presented themselves, some pretty nice panoramas including a rainbow. The further I got up, the windier it became and instead of trees, I was now next to a few big boulders and walking mainly on loose scree.
Soon after I would arrive at the top, looking down at the glacier and up to Fitz Roy. Cerro Torre was still hiding in the clouds but I could tell that I would just need a little change of weather to finally see it. After waiting in the extremely windy summit, sometimes sitting down on my butt because the wind would have thrown me off feet otherwise, I eventually saw Cerro Torre for a split second before it disappeared in the clouds again. I would have another chance to finally see him on another hike. For now, I had to get back because it was already getting late and I still wanted to take care of my camera in town. First though, I had to get down the mountain and find my backpack again!
It actually turned out to be quiet a challenge, because everything just looked the same in the forest and I ended up using my GPS tracks to retrace my route and finally found the backpack to drink the water I desperately needed. Speeding up again, I made it back to the hostel and analysed my GPS data for the first time, using the Android App OruxMaps. The complete path from the camp at Augostini to the summit of Loma de las Pizarras and back to the hostel took 3 hours, 46 minutes while walking 17.64km with an altitude gain of 1082m and altitude loss of 1288m!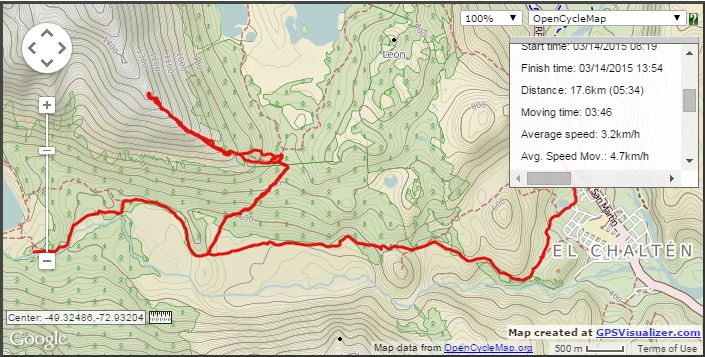 – – – – – – – – – – – – – – – – – – – – – – – – – – – – – – – – – – – – – – – – – – – – – – – – – – – – – – – – – – – – – – – – – – – – – – – –
Thanks for reading! I hope you enjoyed this post and would appreciate a comment below 🙂
If you want more, head over to my Travel Report page for full travel reports, or the Video and Photography pages if you are not in the mood for more boring text. And if you want to help me to upgrade my site, click on the link below for more information 🙂