Region: Africa >> Tanzania
Travel time: 2012, June 20th to June 23th
Picture Gallery: Link


"This night will be very cold on the summit, expect -20°C", Nelson warns us and we fill up our camel backs with hot tea water, even though we know that this won't help much in six hours when we hopefully get close to the summit. We check our head torches and off we go into the night, following all the other lights in front of us. King William shouts out "Pole, Pole!" (Slow, Slow!) but in reality, we actually have a reasonable speed and pass one group after the other.
Welcome to the second half of my Kilimanjaro Report, click here to read the first one.
June 20th, 2012 – Barranco camp (3950m) to Karanga camp (3963m)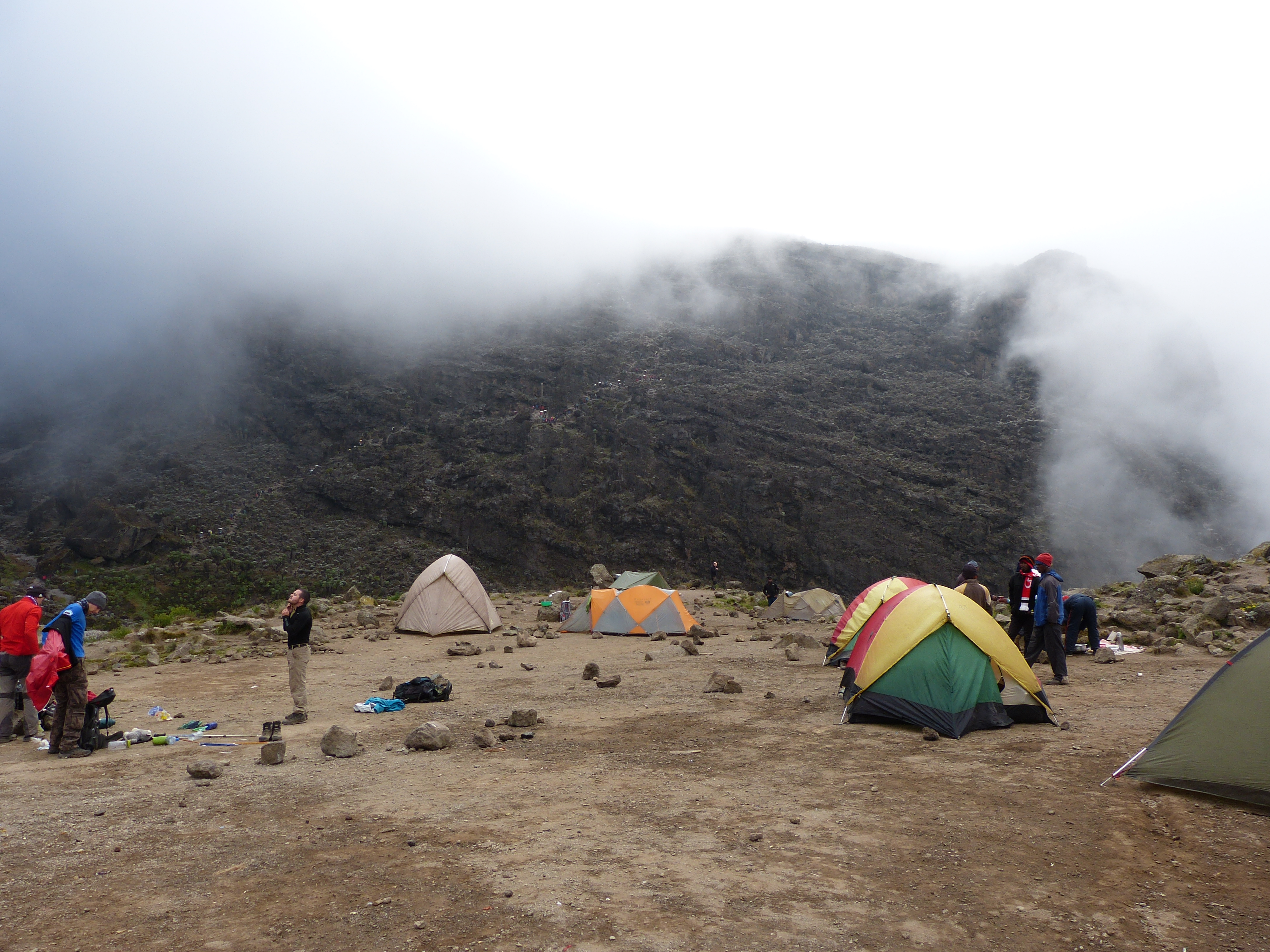 A feel of joy surrounds me this morning, realizing that I was sleeping for a complete night finally. Unfortunately, Christoph and Jessie are not able to share these feelings, as they are both suffering from nausea now. "Today will be an easy day and you will have time to recover for the summit night", Nelson encourages them and we are really glad for this extra day on the mountain. I look up to the imposing Barranco Wall and it seems like a tough climb, lot's of porters and hikers are already queuing up in this narrow and extremely steep section.
Turns out that the wall is not as tough as it looks, using my hands to stabilize from time to time, it is a fairly easy walk. The porters are not impressed either, as they are basically running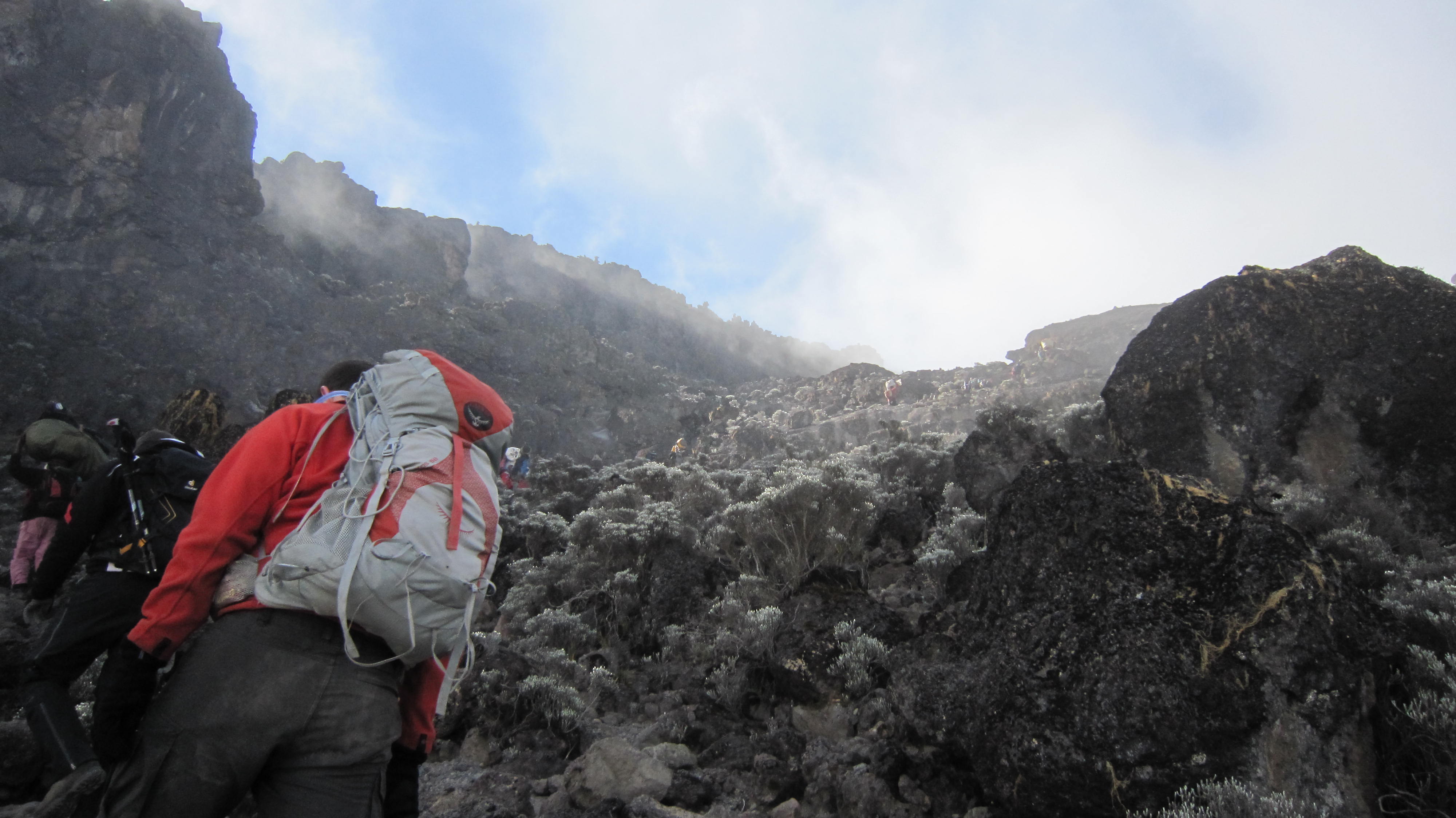 up there with all their luggage. Well, we know that they are beasts by now 🙂 We reach the top of the wall after 45 minutes and enjoy the superb view on Kilimanjaro. "Ahh you like it ya?", King William of Kili says while looking at the sky, "you will have an even better view on him tomorrow." Speaking of the King, he is an incredible funny person, who will most definitely bring a smile on your face after a couple of seconds talking to him. He got his Nickname by guiding a blind man up to the top with his long term partner Nelson.
We arrive at Karanga camp after crossing a valley, which contains the last water supply on the way to the summit. The sun is gone and the camp covered i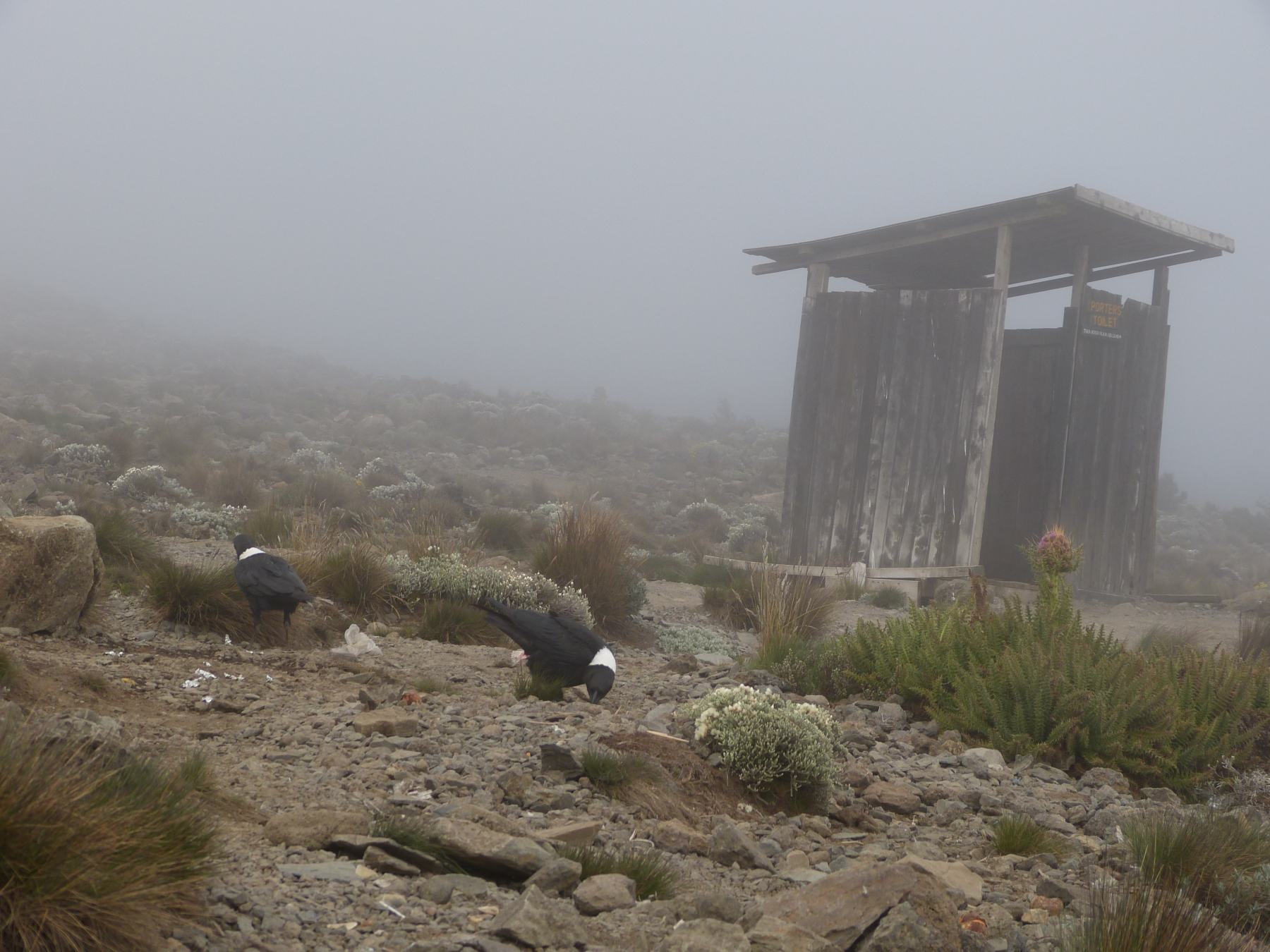 n a thick fog. Some crows are also present here and the place has a very creepy atmosphere now. The "toilets" are actually smelling so bad, one would actually be better off looking for another place to take care of his business. It's also freezing cold, but I still decide that it is time for a complete body wash before we head into the final stage, so get undressed and clean myself with the cold water. Totally refreshed now, I start to read my book and wait for dinner.
June 21th, 2012 – Karanga camp (3963m) to Barafu camp (4550m)

Yesterday's fog vanished away and we have a clear view on Kilimanjaro. There are lots of clouds in the distance though, blocking the sight on Mt. Meru (4565m). I was actually looking forward
to this day and am disappointed now, as I can barely spot the mountain. We begin the 6km hike and the landscape looks familiar – lot's of lose rocks and a great views on Kilimanjaro, as we are heading to it's east side. My headache is gone and I
'm feeling pretty good in general, Christoph and Jessie are also getting better as well, so everything is set for the big showdown!
Arriving at our base camp for the summit night after four hours, Nelson explains that it got its name from the cold weather conditions up here on 4,550 meters, as Barafu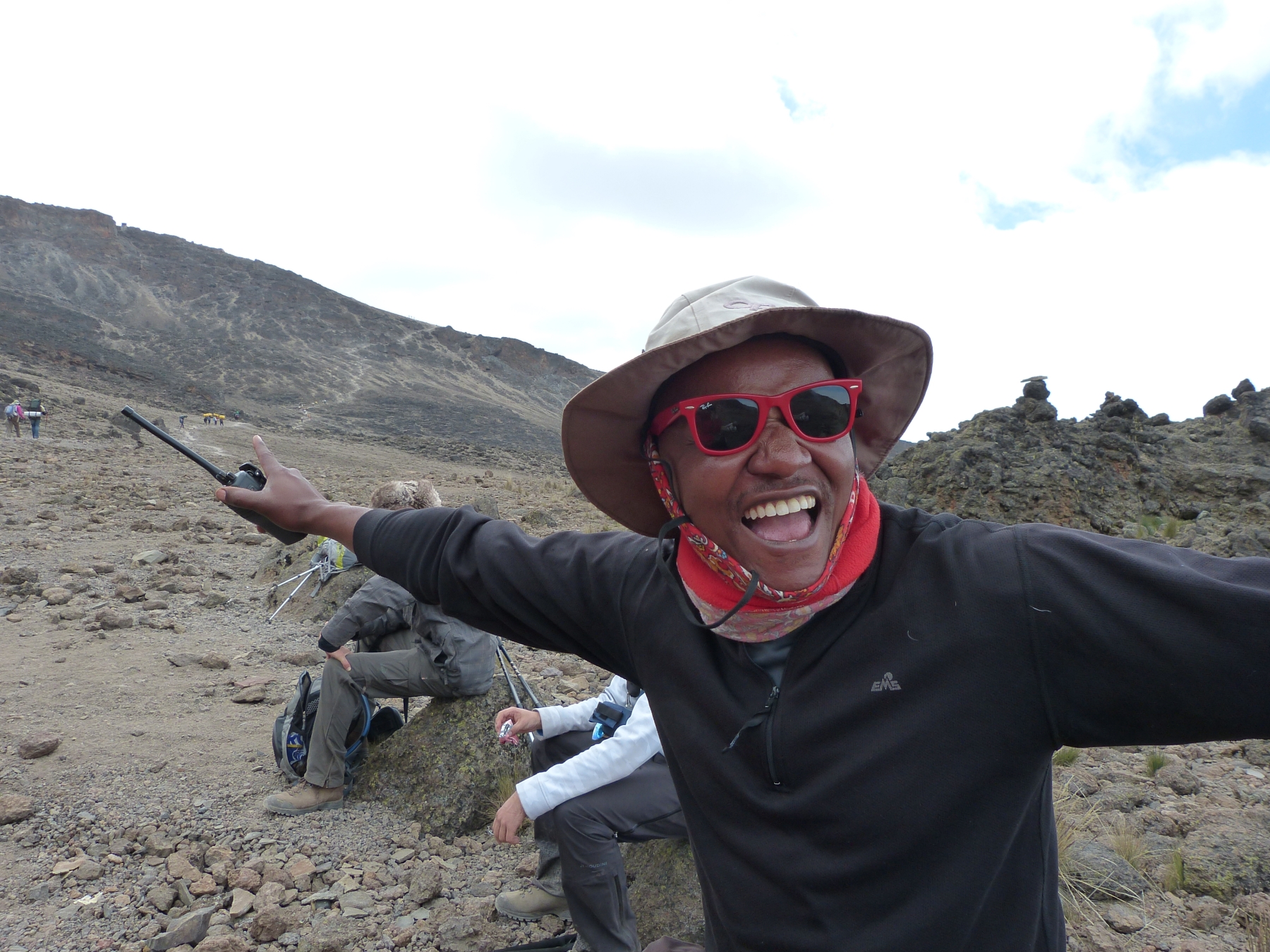 is translated to "ice". The tents are already set up between two huge stone walls and we see the peaks Kibo and Mawenzi. Suddenly, the complete camp is starting to scream and laugh, turning it into an open air theater with a great atmosphere. I look up and can't believe my eyes – a tent from another tour operator is actually flying above us like a kite, quickly disappearing behind a wall after a couple of seconds. "The wind is very strong here because of the surrounding peaks", Nelson says, "they will send out some people to pick it up again".
Our guides lead us to the path that we will use to climb the summit this night, it is important to see the terrain now w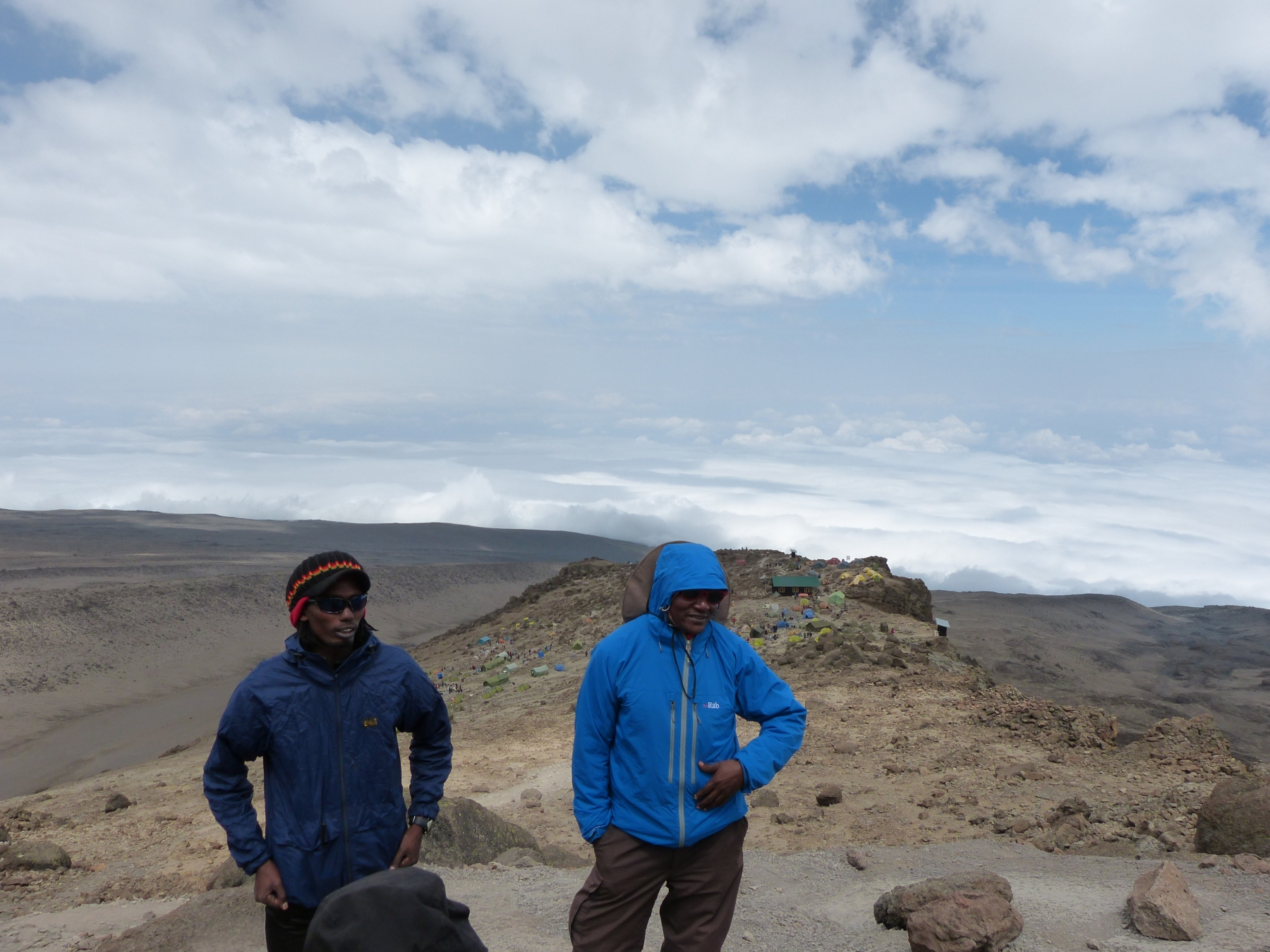 hile it is still bright. We climb up a couple of hundred meters and then sit down to have our final briefing. I enjoy th
e view on the camp and mentally prepare myself for the upcoming challenge. We will now have two hours to rest before lunch is served and then another seven hours to sleep. Excitement is rising and I crawl into my sleeping bag, trying to catch some sleep and recover my energy.
June 22th, 2012 – Barafu camp (4550m) to Uhuru Peak (5895m) to Millenium Camp (3820m)
A severe pain in my hip wakes me up. I guess it was a bad idea to sleep on the side when only a thin sleeping mat separates me from the rocks underneath – but it was just so damn cold! I patiently wait for the tea to reach drinkable temperature and already begin to put on my summit gear: two pair of thick socks, long underpants (borrowed from Simon), two pants, two icebreaker merino wool shirts (150 & 260), one fleece and my weather proof jacket should do the deal in combination with my hat and the gloves I got from Nelson.
"This night will be very cold on the summit, expect -20°C", Nelson warns us and we fill up our camel backs with hot tea water, even though we know that this won't help much in six hours when we hopefully get close to the summit. We check our head torches and off we go into the night, following all the other lights in front of us. King William shouts out "Pole, Pole!" (Slow, Slow!) but in reality, we actually have a reasonable speed and pass one group after the other.
Walking in this altitude with 50% less ox
ygen compared to sea level is different and I'm having a hard time to breath, but other than that I don't feel affected by it a lot. However, I have a pain in my stomach and begin to lose my sense of balance after two hours of walking. Definitely a sign of AMS. It becomes worse the higher we get and occasionally, I need to use my hands to stabilize myself. Nelson and King William are taking a close look at me and are always around to help me out if needed. I can barely see any stars in the sky, must be very cloudy up above.
I keep on walking like a drunk guy and have to sit down to drink some water to recover on a regular basis. The water in my camel back already starts to freeze and it's getting hard to drink from it. We keep on passing group after group and it is a very tough and demanding walk, but eventually we reach Stella Point (5685m) around 5AM. Our guides provide us with hot tea and it is amazing to drink it now. I imagine to be very close to the summit now, but Nelson corrects that assumption as we have one more hour in front of us – Urgh!.
[vimeo http://www.vimeo.com/51628048 w=500&h=281]
Entering a trance-like stage, I try hard to keep on walking in a straight line. It's also slowly getting brighter and finally King William announces that "Uhuru Peak is at the end of this path!". Bundling all my strength and energy, I rush towards the highest point in Africa (without falling!) as the first in our group. Only a handful of people are here already, we actually passed all other groups on our way up. The sun shows it's face through the clouds partly now, but the sight is still not good and it is strongly advised to descend again as soon as possible.
Despite the -20°C on the summit, I take off my gloves to start taking pictures and film the rest on their final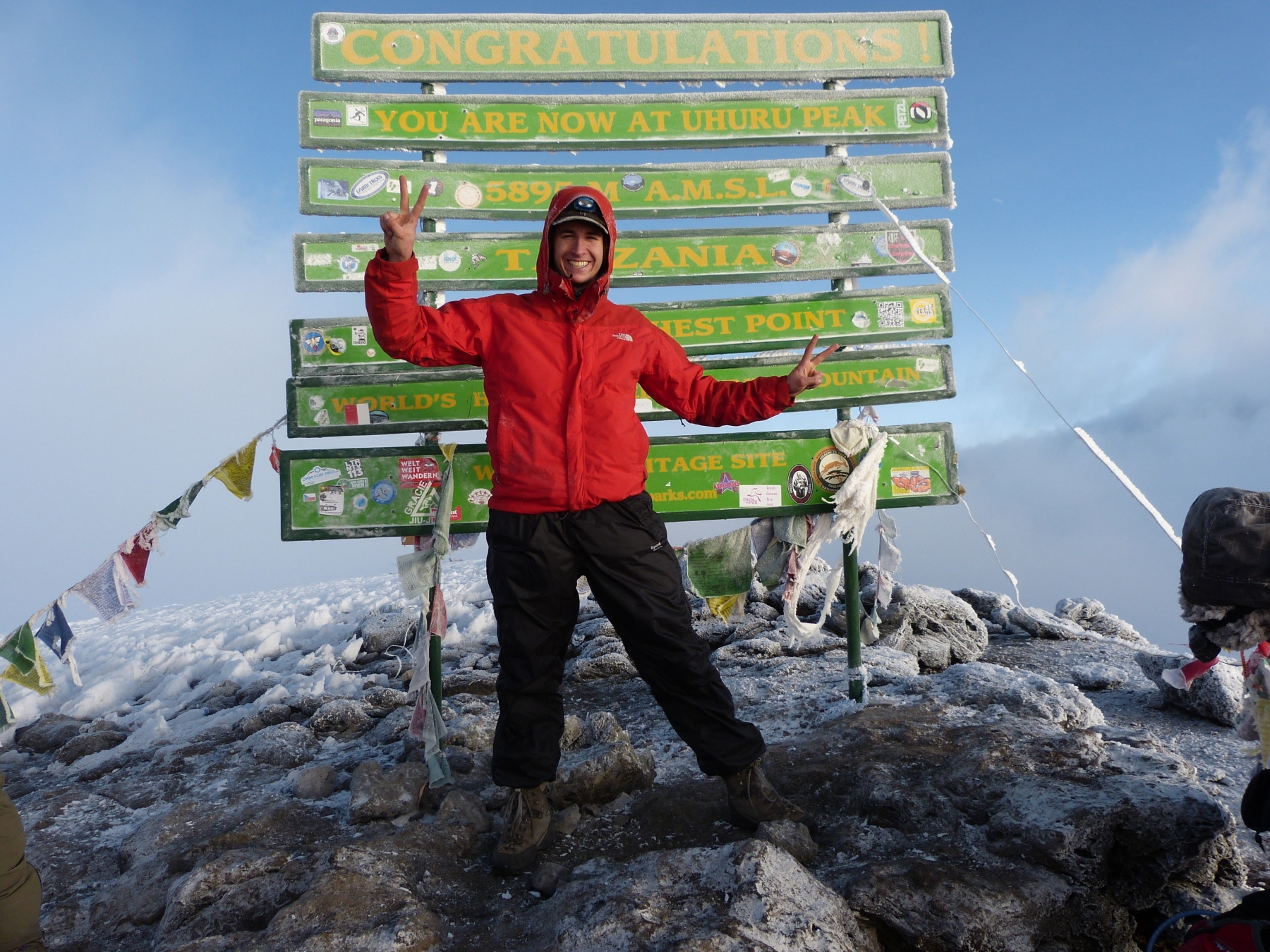 stretch to the top. Being in my trance, I don't even realize how freaking cold my hands are as I am handling my camera for at least five minutes, before finally putting back on my gloves. I would like stay for some time, but the guides urge us to go down again. Christoph shows symptoms of AMS as well and we're not able to get back as quickly as Moritz and Simon, who've been in a top shape during the complete trip. They form a group with Jessie and Nelson, while we are taking things a bit slower.
It takes a couple of breaks before I slowly r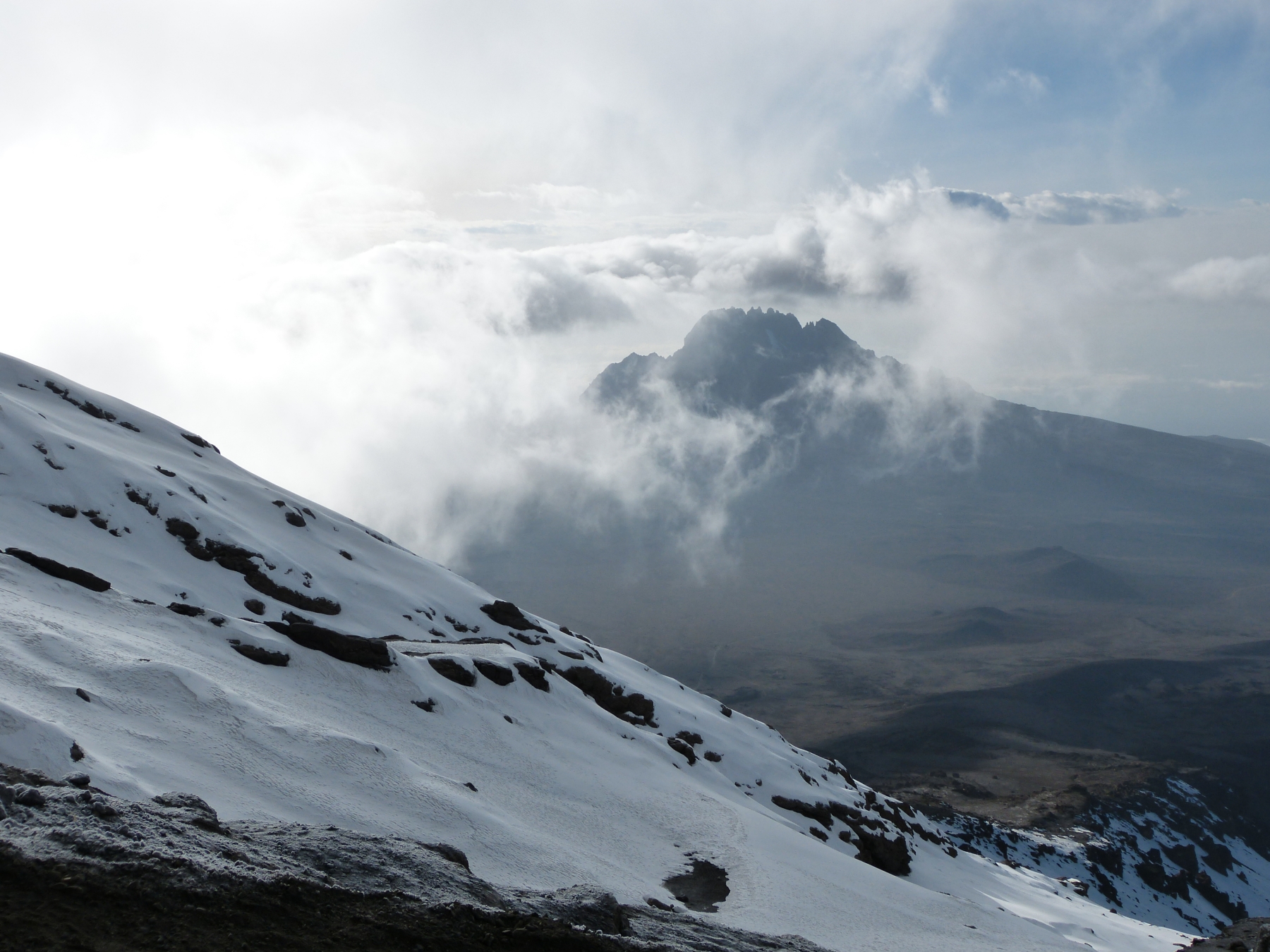 eceive me balance back. Things are moving way quicker now and I'm actually running down the rocky surface, hooked into King Williams arms so we can both stabilize each other. We have a perfect view on the Mawenzi Summit (5148m) on our left and now most of the clouds disappeared, too bad we had such a bad view on the summit. I could barely see any glaciers at all 🙁
We reach Millenium Camp (3820m) six hours later after a break in the base camp, passing an altitude difference of 2,075 m
eters. In the evening, it's finally time to gather in the dining tent for the last time – I will not miss to sit on these small chairs, but I will definitely look back at all the great meals our cook prepared throughout our trip – he did an amazing job! Nelson and King William join us after the dinner and brief us about the appropriate way to tip the crew on the next day. It takes us 20 minutes to figure out a fair contribution before we retreat into our tents.
June 23th, 2012 – Millenium Camp (3820m) to Mweka Gate (1980m)
Everyone is in a good mood this morning and we talk about our achievem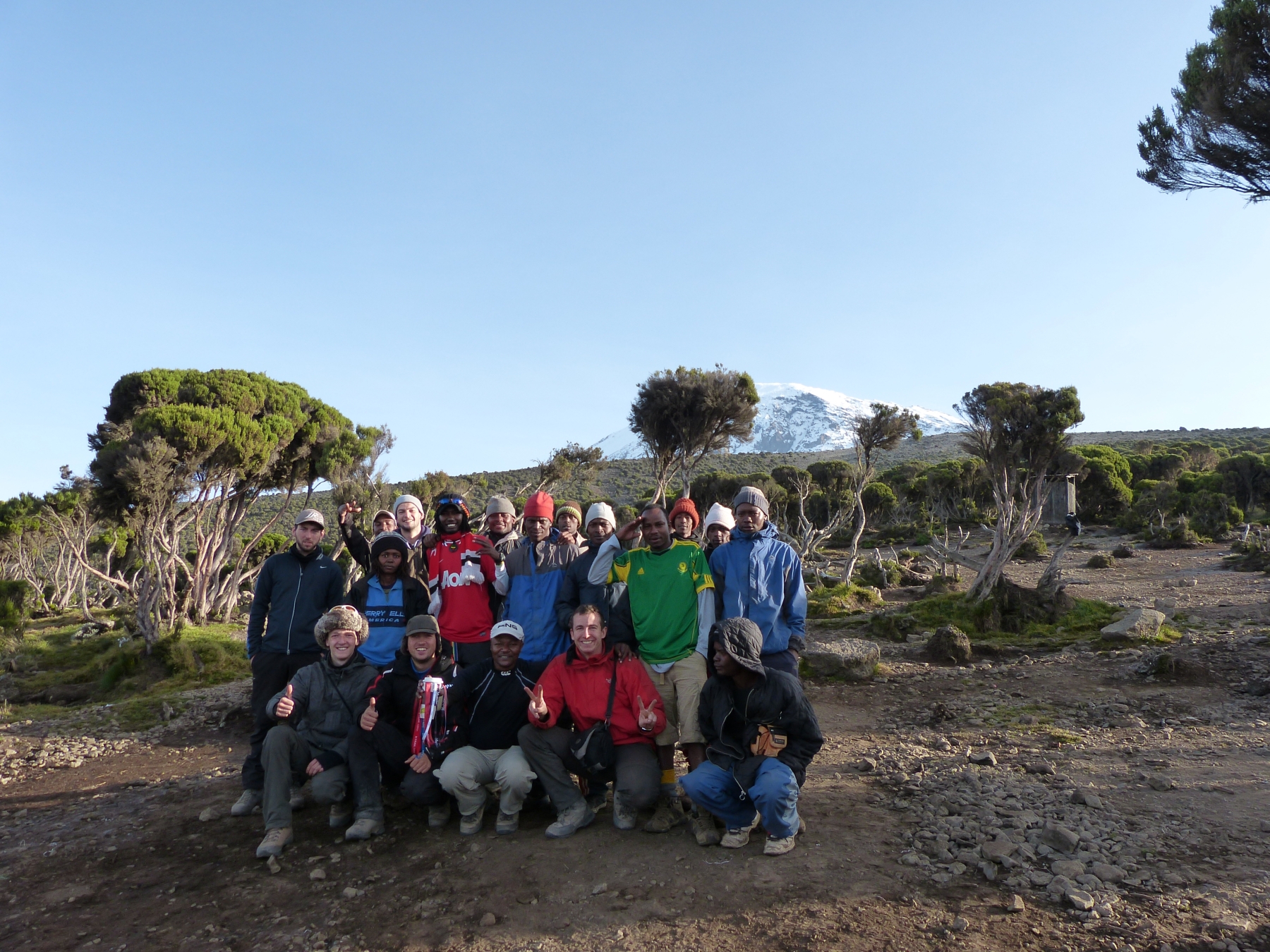 ent from last night. "You were having some problems over there Chris", Nelson proclaims, "but we noticed that you have a strong will and checked on your vital signs the whole time." I want to know how they did it exactly and King William explains: "We checked for any changes in the color of your eyes and tongue and let you walk in front of us to call your name. You reacted and did not throw up either, so everything was good." Interesting to hear! 🙂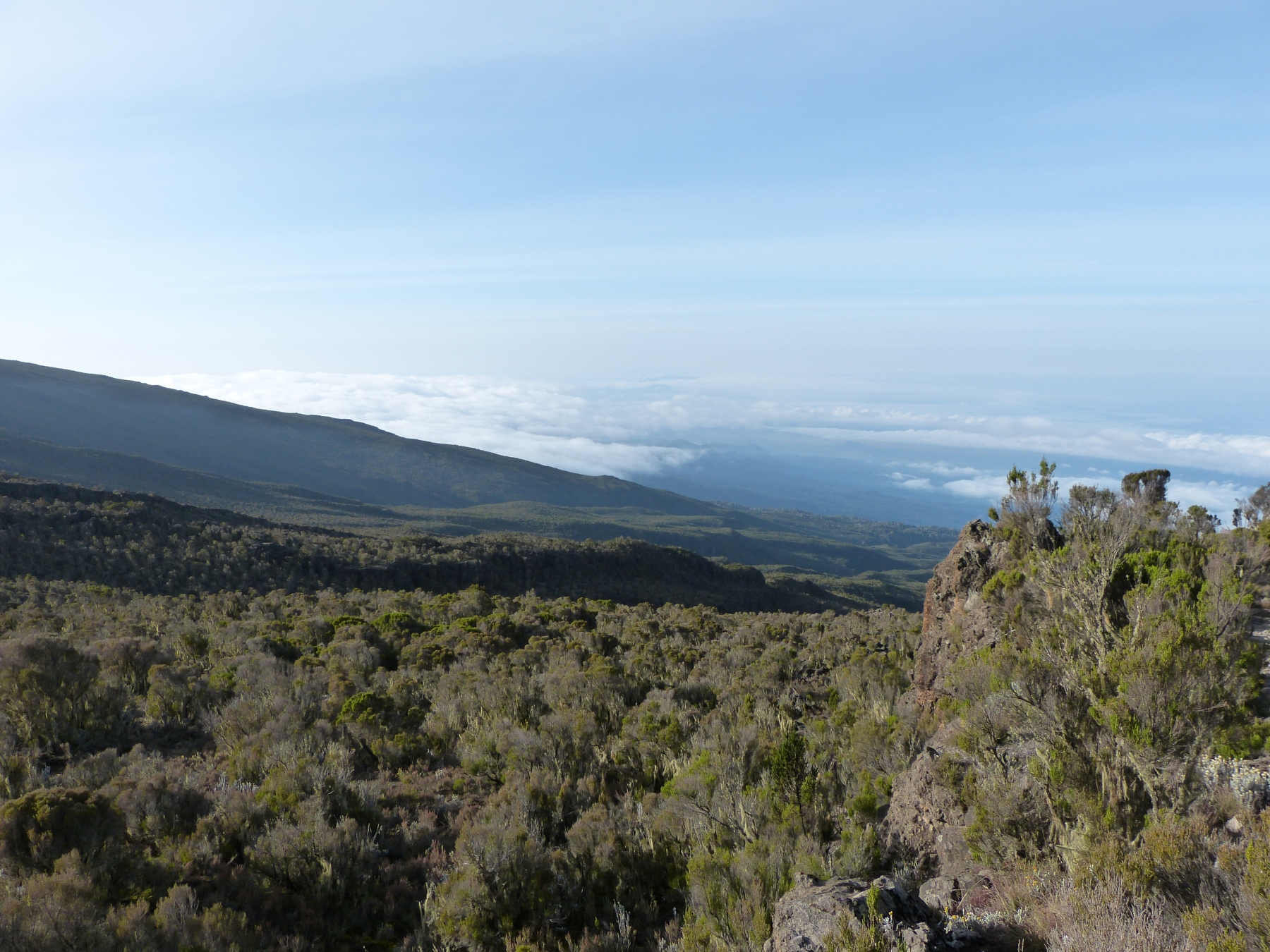 It's time to contribute the tips and we receive another performance of the Kilimanjaro song before we continue back to Mweka Gate (1980m), which is about five hours away. We contain a fast pace on the muddy surface and eventually decide to take things even faster by running down with our hiking poles. Moritz is filming with his Go Pro camera and it is certainly quite some fun to do speed up for a couple of minutes, eventually we are exhausted though and maintain a regular fast pace. We are now en route since nearly three hours and I ask our guides how long it would take. "About one hour from here", they reply and it sounds O.K. as we would have saved one hour. Turns out that the gate was just around the corner 🙂
We register at the gate and decline any shoe-cleaning offers before getting into our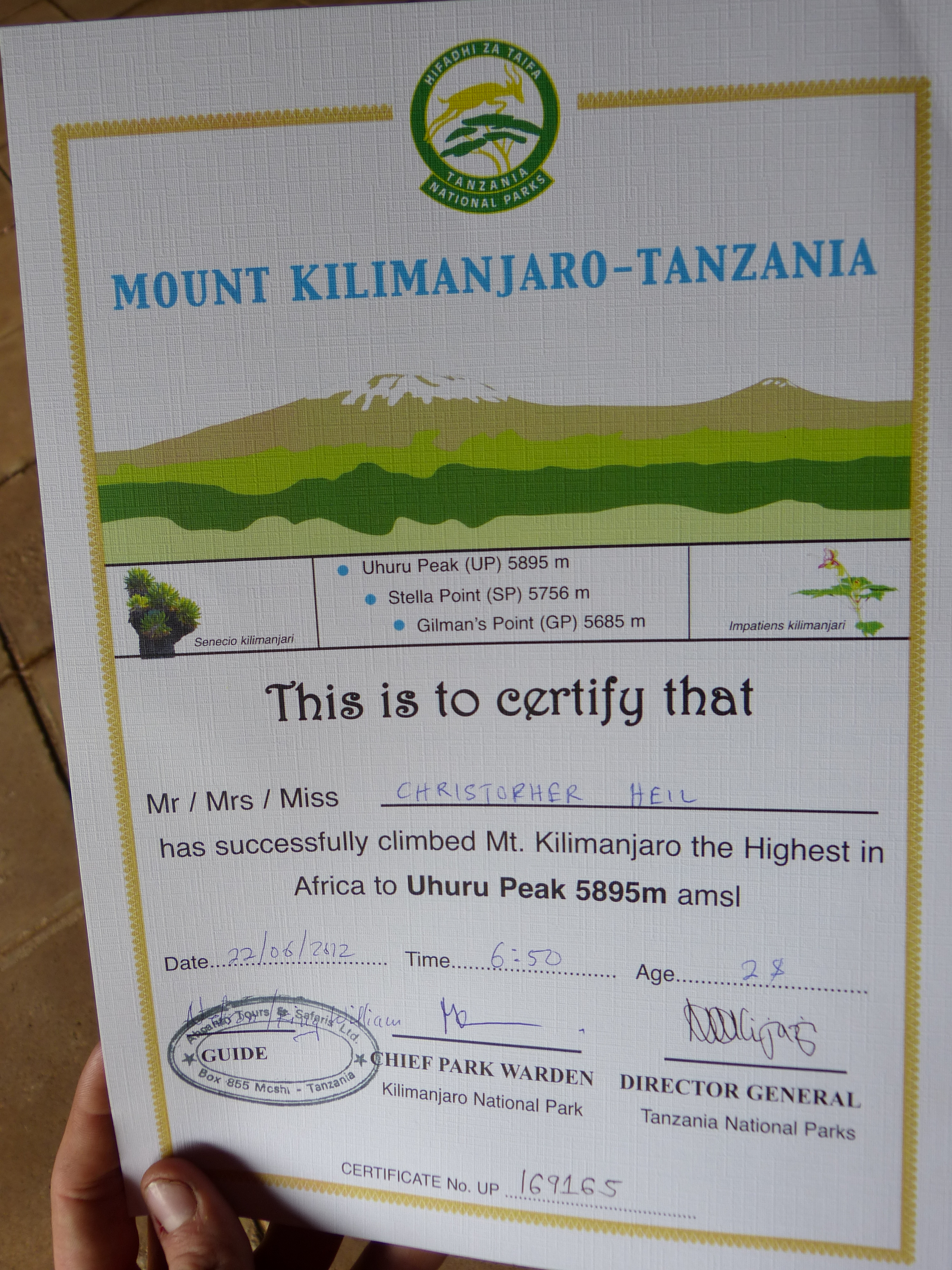 4×4 jeep to drive back to Moshi. We drop our stuff in the office of Ahsante Tours and continue straight on to the Glacier bar, which also belongs to the same company. A last dinner is supplied here and I'm having a delicious fish together with a Kilimanjaro Beer. Our guides give a last speech and hand over the certificates to proof that we made it to
the top of Uhuru Peak.
Today is also the quarter final game between Spain and France and we head to the glacier bar to watch it and finally drink lot's of beer – it's about time! King William joins us as well and it certainly a great way to end this fantastic week of great experiences. I would like to thank my fellow trekkers, guides and the rest of the team for an amazing time. Hakuna matata!
– – – – – – – – – – – – – – – – – – – – – – – – – – – – – – – – – – – – – – – – – – – – – – – – – – – – – – – – – – – – – – – – – – – – – – – –
Thanks for reading! I hope you enjoyed this entry and would appreciate a comment below.
If you want more, head over to my Travel Report or Photography pages. Or join me on one of my Upcoming Trips!